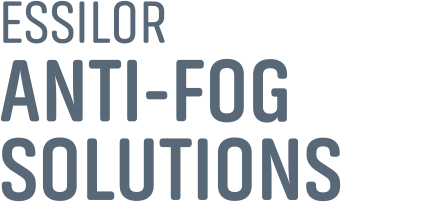 The Real Lens Solution
for New Ways of Life
You and your patients are learning new ways to go about life. Due to Covid-19, this includes wearing face masks when in public settings to help slow the spread of disease. In some localities, wearing a face mask is required by law. While wearing a face mask is essential for our safety, it can cause fog on eyeglass lenses, interfering with clear vision.
These new challenges demand real solutions and Essilor is here to help you provide that solution to your patients. Essilor® Anti-Fog Solutions provide clear and uninterrupted vision while adapting to these new ways of life. Don't let fog come in the way of your patients' safety and their best vision.

A fog solution for every patient.
Patients are being required to wear a mask these days, and in many cases it's the best choice to keep themselves and others safe. The resulting foggy lenses can be restrictive to their activities, and have a potentially dangerous impact on their vision.
Even without a mask, foggy glasses can occur during some very common, everyday activities, such as:
 - Cooking over a hot stove
 - Sipping a cup of coffee
 - Taking a warm bath
 - Opening a warm oven or steamy dishwasher
 - Playing sports and exercising outdoors
 - Working out in a gym

Essilor® Anti-Fog Solutions come with a special anti-fog treatment on the lenses that repel fog so that your patients enjoy clear, fog-free vision in your everyday life.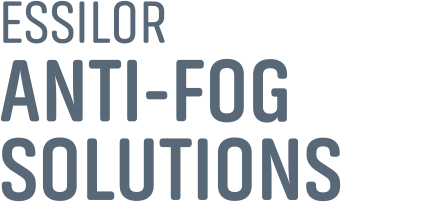 Get a copy of the Anti-Fog Solutions brochure to learn more about the portfolio of fog solutions below.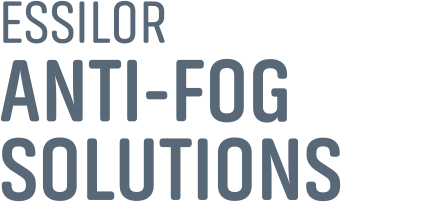 ESSILOR® ANTI-FOG AR

Anti-fog coating applied to the back side of the lenses with a No-Glare coating on the front side. While the back side of the lenses stay fog free while wearing masks, the No-Glare on the front side reduces glare and reflections, and is easy to clean. 

OPTIFOG®

Premium No-Glare coating with anti-fog treatment applied to both sides of the lenses that repels fog while reducing glare, reflections, and scratches. This product comes with a smart cloth that activates the anti-fog property of the treatment on the lens.
FIND AN ESSILOR ACCOUNT EXECUTIVE
Enter your zip code to find an Essilor Account Executive near you.